Getting a Thai Visa Extension in Chiang Mai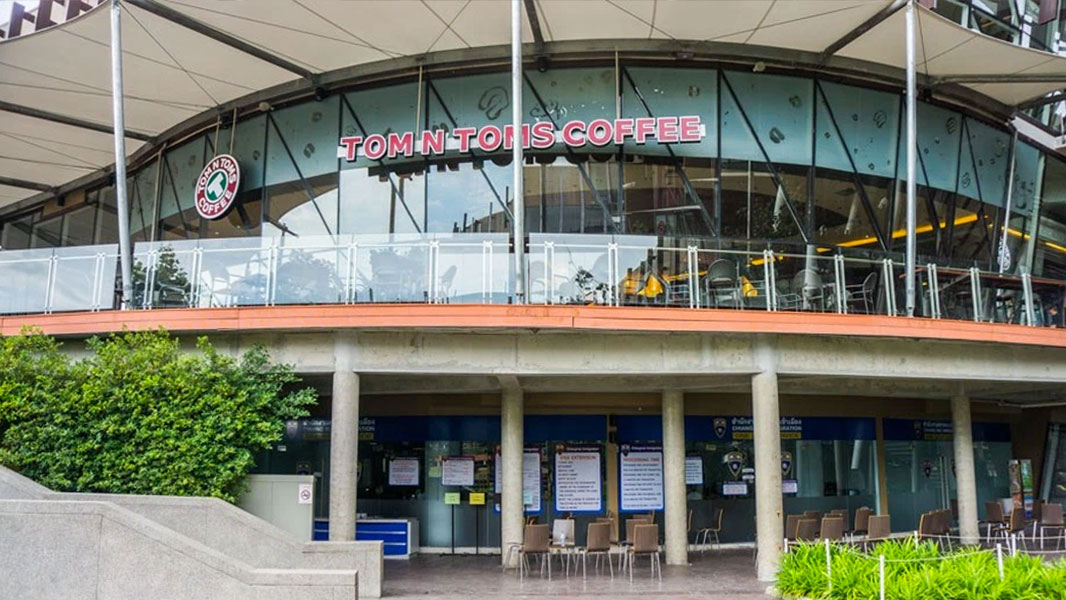 Getting To the Immigration Office
Promenada Resort Mall
Chiang Mai Immigration Center – One-Stop Center (Ground Level, Building A)
192-193 Moo 2, Tumbon Tasala, Amphur Muang Chiang Mai, Chiang Mai 50000, Thailand
www.promenadachiangmai.com
Getting your Thai visa extended for another 30 days will require a half-day visit. Please dress appropriately (in modest attire, cover shoulders, leave the Chang tank tops and booty shorts at home, overall, just dress smartly as there is no need to dress up like you are going to an interview). Be courteous to the officers at Immigration.
We went during late September 2015 and took the red truck or songthaew to Promenada Resort Mall, which cost us 100 Baht each from Nimman area to go there via the Superhighway. The return cost more at 150 Baht each since there were hardly people at the mall during the low-season and there was only one red truck there.
When you arrive at the front of Promenada, walk towards Tom N Toms Cafe via the outdoor walkway and take the stairs outside on the right going down as the Immigration Office is directly below it. A Copy & Print Shop, Cafe Shop and toilets are open right next door to the Immigration Office.
It appears that there is a free shuttle departing from certain parts of the Chiang Mai Old City to Promenada and back, the shuttle schedule can be viewed here. However, the shuttles do not run early enough for you to get there for visa proccessing, but you can take this heading back into the city. Some visitors mentioned that the free shuttles do not run on time and sometimes do not even show up, so please factor that in when planning on using the service. 
Things to Prepare Before Going
Double Check Office Hours: Normal business hours are 8:30am-4:30pm Monday-Friday, but they are closed during holidays and from 12pm-1pm for lunch break. As there are many Thai holidays, click here to view a list of Thai holidays. It's safe to get your Visa extended at least 3 days or more before it expires, but don't wait too long because overstays are frowned upon and you will be fined and may be deny future access into Thailand. During high season, it's recommended to arrive at 7:30-8AM to get a number as wait times can average 2-3 hours or more.
Preview and/or Print the Visa Extension Form TM.7: You will need to provide some information on both sides of the form, which is recommended that you gather ahead of time. The form is supplied at the office and is readily available. http://www.immigration.go.th/nov2004/download/pdf/tm7.pdf

Personal and Passport Information
Departure/Arrival Information: Method of arrival, departure location to enter Thailand, where you arrived in Thailand, date of arrival
Full Current Address (in Thailand): In Chiang Mai, the Amphoe/Khet and Changwat are both Chiang Mai. But you will need to figure out your Tambon/Khwaeng and the staff can help you figure it out if you can't. Though it should be as easy as plugging in your address into Google Maps where they provide you with the complete address.
Phone Number or Email Address: It is not on the form, though staff will ask you to write it in later
Items to Bring
Passport
Departure Card
Copies of the Following: You can get these done at the Copy & Print Shop located 200 meters to the left of the Immigration office (while looking at the office from outside). Ask for copies for the set for the visa extension which cost us 4 Baht in 2015.

Passport Photo Page
Current Thai Visa Page
Thailand Departure Card

Visa Photo: This is not a standard U.S. Passport-size photo. The dimensions are 3.5 cm x 4.5 cm (1.4″ x 1.8″). If you do not have one, you can get one taken at the same Copy & Print Shop for 200 Baht and you will get a total of 6 photos.
Pen (black ink): You don't have to bring one since they offer it there, but it could speed up the process so you are not waiting for a pen to use. You can fill out the form at the cafe directly across from the Copy & Print Shop.
Cash: 1900 baht (30 Day visa extension) + 4 baht (photocopies) + 200 baht (visa photo) + Extra cash to get you to and from their location and for beverage/snacks while you wait.
Visa Extension Process
Pick up a TM.7 form at the front counter and fill out the application at the cafe across from the Copy & Print Shop. Some tables have pens you can use in case you forgot to bring one.

If you need copies of documents and photos, walk to the left of the Immigration Center by 200 meters and you will find a Copy & Print Shop where you can get the set of copies required.

Submit your form to the staff and they will review your application, ask for the payment (they will provide change when your passport is returned) and you will be given a number.
Wait for your name/number and country to be called and step up to the counter for one more photo, no glasses, and no hats.
Return to your seat and wait for your name/number to be called again to retrieve your passport with your extended visa stamp and collect your change.
Double check you have received a new extension stamp.