Posts
http://www.roamtowonder.com/wp-content/uploads/2016/01/feature_Melbourne_Japenselady.jpg
875
1500
Joshua Hawley
http://www.roamtowonder.com/wp-content/uploads/2015/01/logo_roamtowonder_regular-300x125.png
Joshua Hawley
2016-01-07 02:45:55
2016-07-05 13:01:51
Daily Photo: Japanese Lady Graffiti
Melbourne: A Street Art Capital
Melbourne calls itself as one the street art capitals of the world. Anywhere you go, you will find some form of unique expression of street art. This allows the city's culture to be fully expressed in the streets of Melbourne. You will find it peeking out everywhere. It is hard to walk down an alleyway, laneway, or peer in a window without seeing some form of art. From being perched high up on the side of a building to laying on the ground, you will discover art that will grab your attention. No nook and cranny seems too small to be used.
The famous street art of Melbourne draws numerous visitors from around the world. Though mainly consisting of murals and stencil art, it also includes any other forms of art. As you walk along the alleyways you will find poster art, sticker art, wheat pasting, street installations and reverse graffiti. Each adding their own unique message to the street art culture. Many prominent international street artists have contributed to the bustling street art at the turn of the 21st century. Artists such as Banksy (UK), ABOVE (USA), Fafi (France), D*FACE (UK), Blek le Rat (France), Shepard Fairey (USA) and Invader (France) have all added to the street art culture in Melbourne. New artists pop up all the time to gain notoriety and showcase their work internationally. Not only is Melbourne a "street art capital" but it is also dubbed the "stencil capital of the world." Embracing the style at an early stage.
Our Self-Guided Street Art Tour
Being lovers of artistic expression, we spent our days in Melbourne deliberately walking around to discover it. To get a better sense of where to go, we made our first stop the Tourist Information Center at Federation Square. Here we picked up some amazing and free walking maps along with transportation information. At the center, a clerk went over the  self-guided map for "Arcades and Lanes."  Providing her choice of popular street art spots. Recommending places to see like Hosier Lane, Rutledge Lane, and Blender Lane and informing us which ones we should avoid. When we got hungry, she recommended a bar and restaurant that she particularly enjoyed, Ferdydurke. Here we would find a variety of wall to wall, floor to ceiling posters and stencil art. Besides art, Ferdydurke also offered up some tasty Pirozhkis and beer while we enjoyed a view of a beautiful mural from their balcony. With so much art to see, we couldn't help but stray from the map. Deliberately getting lost in the city, we found the majority of our favorite art sprawled in random locations. Walking through alleyways near the Queen Victoria Market and in Chinatown gave us many pleasant surprises. An art student we came across mentioned the up and coming district of Fitzroy, where the street artists flock to since there are more unclaimed walls. So we headed over there to see what we could find. When we got tired, we just rode the tourist train or caught a tram in the CBD or Free zone.
Hosier Lane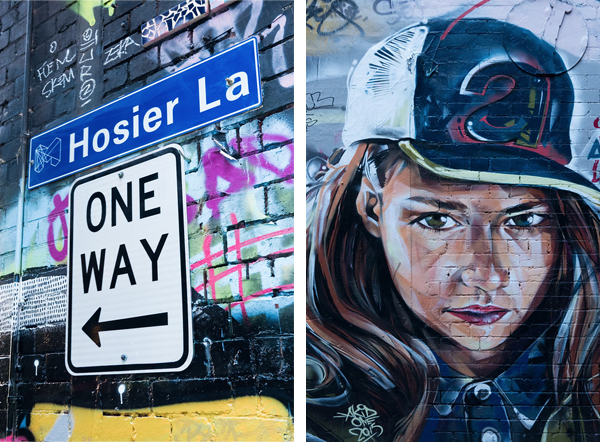 Left: Hosier Lane signage
Right: Akid One (Malaysia)

Students visit Hosier Lane and admire Ganesh by Deb as part of their art studies.

Right: Monday Sucks!! by #MaizeOne

Left: Reflections of graffiti art.
Right: Chinese visitors are so hipster cool and color coordinated.

May and Mike from Monsters, Inc.
Blender Lane
One of the more prestigious street art laneways was started by The Blender Studios. What started out as a street art collective has since evolved into an art complex and ideas factory. On Wednesday evenings from 5-10pm, the Blender Lane Artists Market comes alive with live with music and performance artists, food, stalls of crafts, fashion, and art for sale, and even the chance to preview open studios.

Blender Lane

Anonymoose
In and Around Melbourne

Left: ArtEquities' Con Artist's Profitable Con Art near the Queen Victoria Market
Right: Near the Queen Victoria Market

Monster trash cans near Ferdydurke

Left: Keep Your Coins, I Want Change near Queen Victoria Market
Right: Jacob Coopedge, student of Latrobe College Art and Design, painting his grayscale work to size on the gallery wall

Found near Chinatown

Found near Chinatown
Dragon spotted in Fitzeroy area.
If you are interested in street art, Rash (2005) a documentary directed by Nicholas Hansen explores urban street artists in Australia through public dialogue.
http://www.roamtowonder.com/wp-content/uploads/2015/07/feature_australia_melbourne.jpg
875
1500
May Suen
http://www.roamtowonder.com/wp-content/uploads/2015/01/logo_roamtowonder_regular-300x125.png
May Suen
2015-08-11 10:54:05
2016-11-29 23:55:56
The Street Art Scene in Melbourne