Posts
http://www.roamtowonder.com/wp-content/uploads/2016/01/feature_Indonesia_baliuluwatusunset.jpg
875
1500
Joshua Hawley
http://www.roamtowonder.com/wp-content/uploads/2015/01/logo_roamtowonder_regular-300x125.png
Joshua Hawley
2016-01-31 04:20:29
2016-07-05 12:10:47
Daily Photo: Uluwatu Sunset
Surf, Sun, and Temple Fun

Sunset at Uluwatu Temple
Having spent some time exploring Ubud we decided to head down to Kerobokan and then Seminyak to get a taste of the side of Bali while we waited for our visa extension. We would need to go to the immigration office near the airport to get our photo taken and fingerprints scanned. With May needing some rest to recover from her strep throat, we booked a room at Pandawa All Suites Hotel in Kerobokan. It was little more secluded than we imagined, but it gave us some peace and quiet. Maybe it was little too much peace and quiet; we couldn't wait to get to the beach after a week of isolation in Kerobokan. Having gotten all of the relaxing we needed, and with her throat feeling better we decided it was time to head for the beach and have some fun. So we got a hotel room down the street from Double-Six beach in Seminyak. Time to enjoy some sun and fun, playing in the surf, and check out a couple of temples.
Seminyak and Double-Six Beach
This ended up being our favorite place in Bali, not as crowded and without as many touts as Kuta Beach, so we could just relax and play in the surf. It was so much fun to jump in the ocean, dive into the waves and feel like a kid again, not having a care in the world. After playing in the ocean, we lounged in the cabana area provided by our hotel, Hotel Horison, eating some delicious food and soaking the sun. At night, the restaurants at the beach set out beanbag chairs and set up stages for live music, which we really enjoyed. Sitting down, enjoying a cold beer while listening to music, we reflected on how lucky we were to be there, enjoying life. We were just beginning our second month on the road and it still didn't seem real. Looking at the stars, absorbing the vibrations of the music, and feeling the energy of the ocean truly made Double-Six beach a special place for us. Watching people light lanterns and letting them drift up to the sky was an enjoyable experience. As they floated farther away, becoming a little light moving across the night sky, and finally resembling star as the last flicker of light faded away was a great sight to take in. Making the beach all the more fun. Having taken in the beach, we decided it was time to go temple visiting.
Tanah Lot

Stars start to shine after sunset at Tanah Lot Temple
Tanah Lot temple, built on a rock just offshore, is an important directional temple on Bali and one of seven sea temples on Bali. In Balinese, the name Tanah Lot means "Land (in the) Sea." The temple is built to honor Dewa Baruna, a sea god in the Hindu religion. The ocean tide continuously shapes the rock and is only accessible during low tide. Due to erosion, the temple underwent a restoration in the 1990's with one-third on the "rock" being very  cleverly disguised artificial rock. Sunset is when it is at it's most beautiful. We hopped in a cab, negotiating with him to take us there and back; we headed to Tanah Lot to see the sunset. Once you enter the temple grounds you have to walk through a maze of souvenir stalls before you actually get to the temple. It was a little more touristy than I prefer, the stalls selling the standard tourist items found in the markets around Bali. After walking through the stalls, we made our way down towards the temple.
It was low tide so we were able to wander down to the beach and over to the rock that the temple sat on. Unable to enter the temple grounds since it wasn't open yet, so we walked around and scouted for a good location to view the sunset. At first we headed back up to the cliff that overlooked the temple but thought that the beach would give us a better vantage point, so we made our way back down to the beach. Finally finding a spot, setting up my tripod, we waited for the sunset to begin setting when we noticed people going up to the temple. A rush of disappointment set in, we had missed our chance to explore the temple, but we had found a good place to view what we hoped would be a beautiful sunset. We were not disappointed.

Getting ready for sunset pictures
Standing in the surf for the sunset was very fun. The tide slowly began to rise, the waves hitting my legs at a steadily rising rate as the sun steadily descended towards the horizon, the sky ablaze with an orange glow. As the ocean got higher I had to keep moving closer to shore until I found safe ground, darkness was beginning to set in, the sky became brilliant blue and purple, bringing joy to our eyes. At the end of the shoot, walking along the shore with our headlamps guiding us, we both felt happy to have seen such a pretty sunset.

Tanah Lot Temple Sunset
Tanah Lot is located about a 40-minute drive from Seminyak. There is not much transportation there so most visitors are part of a tour or hire a taxi or motorbike.  Make sure you have some return transportation arranged or may get stuck there or pay a high price to get back to your lodging.
Uluwatu Temple

Uluwatu Temple Sitting on the Cliff Edge
After going North for sunset at Tanah Lot, we decided to head South to other main Hindu temple on Bali, Uluwatu. Uluwatu, located 70 meters above the sea on a cliff is another great place to sit and enjoy the sunset. It, along with Tanah Lot, is one of the six temples believed to be spiritual pillars of Bali and an important directional temple. These temples are believed to protect against evil. Not only can you get spectacular views of the ocean from the cliff it sits on, it also hosts a nightly Kecak dance. Not being satisfied with just seeing the sunset, we decided to take in the Kecak fire dance. Since its location is on the Bukit peninsula, the most Southern part of Bali, we hired a driver to take us there and back.

Beautiful Sunset at Uluwatu Temple
Sitting on the edge of a cliff, it gives way to beautiful views of the ocean and the waves crashing below. Pura Luhur Uluwatu in Balinese means "something of divine origin (at the) lands end rock." We walked along the cliff edge trail to different vantage points, taking the beauty of the area and stopping to look at a Chinese couple getting their wedding pictures taken. Our driver accompanied us, making sure we didn't have any trouble with monkeys that live at the temple. They are known for taking things such as sunglasses from tourists. As the sun began to descend towards the horizon, we made our way towards the stands that surround the stage where we would watch the Kecak fire dance. We picked our seats and had enough time before the dance started to enjoy the beautiful sunset.

Wedding Couple

Uluwatu Temple Sitting on the Cliff Edge
http://www.roamtowonder.com/wp-content/uploads/2015/09/feature_Indonesia_tanahlot.jpg
875
1500
Joshua Hawley
http://www.roamtowonder.com/wp-content/uploads/2015/01/logo_roamtowonder_regular-300x125.png
Joshua Hawley
2015-10-07 11:16:01
2016-11-29 23:57:51
Seminyak - Visiting Temples and Feeling like a kid again
Arriving in Bali – Our First Taste of Southeast Asia
After spending nearly a month in Australia, we left Perth and headed to Bali to begin a two-month trip through Indonesia. Though Australia was on the other side of the Pacific Ocean from California, it sometimes felt like we had never left the U.S. since everyone spoke English and the cities had a similar feel to San Francisco. The only difference was that they spoke with a funny accent. As we disembarked from the airplane, we felt like our trip had just begun. We didn't quite know what to expect of Bali. Beaches and "Eat, Pray, Love" were all that we knew about the island, but we had been told by several people we knew before we left that it was their favorite place so we were very excited to finally arrive. As we exited the plane and stepped on the tarmac, feeling the warm tropical air hit us, we both smiled knowing that we had finally reached Southeast Asia and a new adventure awaited us.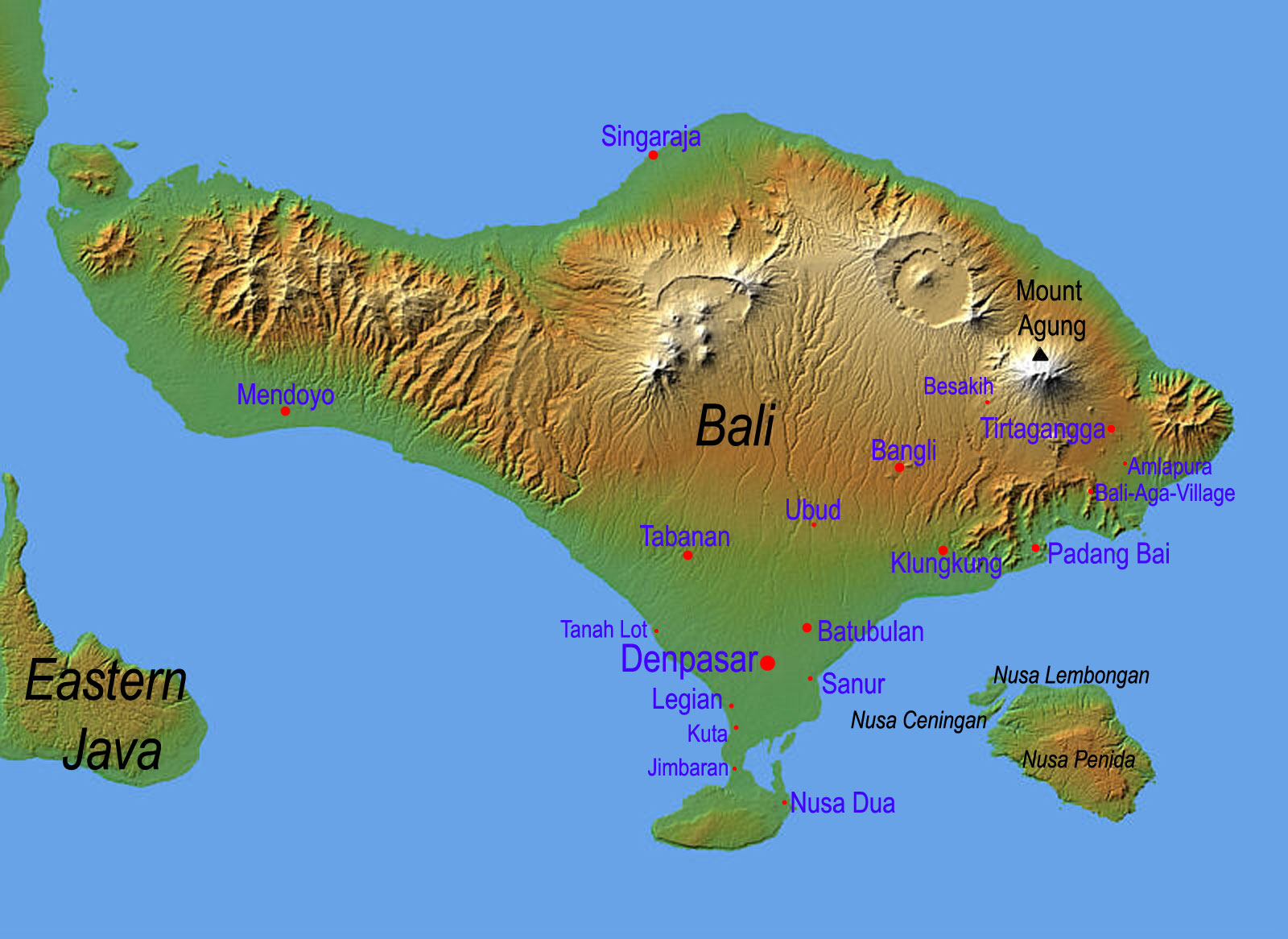 Though Indonesia is the world's largest Muslim country, the 3.8 million population of Bali practices Balinese Hindu. When we arrived, we had to walk through a temple at the airport and could immediately tell Bali had a special spirituality to it. We arrived during the full moon. The power of the moon were quite powerful and special as it created some of the most lucid dreams I have ever experienced in my life.
It is simple to remember the names of people we met since the males are named after their birth order. We met a lot of Wayan (first born, pronounced why-anh) and Made (second, pronounced mah-day), but Nyoman (third, pronounced just as it's read) and Ketut (fourth, pronounced keh-tut) were a bit more scarce. The fifth child's name would start over at Wayan. But not everyone goes by their birth-order name because it would be confusing because you would start to be unsure of which Wayan would be referred to. Usually nicknames are given to them from friends or selected themselves. Rama was a special case. He was our extremely informative and chatty tour guide we met at the Kecak Dance at the Desa Pakraman Taman Kaja community near central Ubud.

Us with Rama our driver, tour guide, and friend with his wife
Arriving during the high travel season, the island seemed to be overrun with tourists as 40% of Indonesia's foreign tourists go to Bali. At times we just wanted to lay low and have some peace, so we spent our time in a couple different areas of Bali that offered us a little of everything. Here you can hike volcanoes, drink the second most expensive coffee in the world (Kopi Luwak or coffee made from cat poop), see traditional Balinese dances, visit some of Bali's most spiritual temples, and enjoy amazing sunsets.
Ubud – Bali's Spiritual Capital

Titra Empul Water Temple
Ubud is located in the mountains of Bali, making it a little cooler than Kuta or Seminyak. It is a good location for starting many adventures on the island or experiencing the traditional side of Bali. Many of the traditional dances on Bali are performed in or around Ubud. During our stay, we saw the Kecak Dance and Barong dance. Needing a little pampering we took full advantage of the spas to work out the stress we had built up in our bodies. As you wander around you may stumble across various celebrations, there seemed to be a reason to celebrate everything. While driving around, we were able to see a couple of wedding processions. Giving offerings to the Gods is very important so noticed them in front of every store, and placed all over the hotel we stayed at, Y Resort. Our first stop was the tourist information center for the latest schedule of dances. Across from the center is the market where you can wander for souvenirs and art.
Since we didn't have a motorbike, we decided to hire a driver for a tour of the sites near Ubud – watch a Barong dance, view Mount Batur and lake while feasting on a lunch buffet, woodcarving center, Tirta Empul water temple, and rice terraces. Learning to cook Indonesian cuisine at the Paon Cooking Class was one of our favorite activities. From walking in Sacred Monkey Forest to learning to cook, we learned there are plenty of things to do in Ubud.
Kerokoban – Peace and Quiet
For some peace and quiet, we spent some time in Kerokaban. Staying at Pandawa All Suites Hotel gave us some time to reflect and re-energize. The resort was located a bit far from the main attractions in the area so we just advantage of it and rested. If you are seeking to get away from what can seem like the hectic pace of Bali then this is a good place to stop and rest.
Seminyak – The Beach and Temples Call for Us

Sunset at Uluwatu Temple
Needing to feel the ocean on our bodies we made our way to Double Six Beach, staying at the Hotel Horison. Located just a short walk down the street from the beach, with their own cabana section, we spend a day playing in the surf. When night comes, the restaurants on the beach are great for sitting down, having a drink and enjoying live music. Being out of the mountains and getting the rest we direly needed, it was time to visit temples. Two of the most famous temples on Bali, Tanah Lot and Uluwatu are great places to visit during the sunset. Tanah Lot, known for it sunsets, is one of the most popular temples on Bali. It is built on a rock and can only be visited on foot during low tide. Taking advantage of the low tide, we ventured out in the ocean for sunset photos. The other famous temple on Bali is Uluwatu Temple. Located on a cliff, it provides great views of the ocean and there is a daily performance of the Kecak Dance. It was hard for us to sit still and wait for the Kecak dance to start with such a pretty sunset, but we managed. Watching the sun turns the sky beautiful pastel colors were amazing at both these temples.

Tanah Lot Temple Sunset
Extending Our Visa
When we arrived we were only granted a 30-day visa on arrival so we went to Highway Bali Consulting Services to start our paperwork for extending our visa another 30 days. The process should only suppose to take 5-7 days, but in our case it took longer. After filling out the paperwork, we handed over our passports and were told we should get a call for when we would need to go to the immigration office for fingerprinting and getting our photo taken, in about 3 days. Since we would need to go to the Kuta area we decide to head down to Seminyak to enjoy the beach and finish our visa extension, then head back to Ubud for some more exploration. Instead of 5-7 days it took us 14 days to actually get our visa extension. The most annoying part of the experience was when we went to the immigration office at our scheduled appointment time the first time, we were told we had to come back in two days because their computers crashed. If you are planning on extending your visa in Bali give yourself extra time.
http://www.roamtowonder.com/wp-content/uploads/2015/09/feature_template-copy-copy.jpg
875
1500
Joshua Hawley
http://www.roamtowonder.com/wp-content/uploads/2015/01/logo_roamtowonder_regular-300x125.png
Joshua Hawley
2015-09-25 16:45:04
2016-11-29 23:58:19
Bali - Our First Taste of Southeast Asia