Heading Towards the Left Coast 
Having spent three weeks flying around the Eastern part of Australia, we headed west to visit Perth, the capital of Western Australia and the only major city on the left coast. When we met people in Eastern Australia and mentioned we were going to visit Perth they would ask us why and proceed to tell us there is nothing there and it's really expensive. Well, we thought, why not! It may be one of the most isolated major cities in the world, but it also right on the edge of the outback and home to the world's largest gold coin.
So with some left coast exploration ahead of us, we caught an overnight flight from Sydney and landed in the middle of the night. Because we were catching a redeye flight, we booked a place near the airport via Airbnb so we could get a few hours sleep before heading to our hotel near the city center. The major industry in Perth is mining, so most of the miners fly-in for the week and fly-out for the weekend or FIFO, fly-in fly-out. This makes hotels cheaper on the weekend than during the weekdays, so to save money we planned our stay around a weekend.
Having gotten just enough sleep, well enough that we could function properly, we walked over to the bus stop down from the house we had rented a room from for the night on Airbnb. Hopping on the bus and heading towards the city we could see that Perth was different than other places we had visited. As we drove through the suburbs, we knew we were in the outback or bush. In the course of a month, we had gone from the tropical rainforest to the cool harbor side cities and now the edge of the desert outback. After what seemed like a short bus ride to the main bus terminal, we got in a taxi and made our way to the hotel we would call home for the next couple of days.
Since we didn't get much sleep during the night, we took it easy and just rested and planned for the next couple of days at Sullivans Hotel. Besides, spending five hours in a cramped budget airline seat with little to no leg room, didn't do us any good and left us feeling a little drained. The only way we could afford flying around Australia was because we bought cheap tickets during a two-day sale from Tigerair Australia. For short flights, it wasn't that bad, but flying for five hours with my knees digging into the back of the seat in front of me didn't provide for any comfort to take a nap during the flight. Perth is not known for its tourist attractions since most people just spend a couple of days there and then either drive through the vast expanses up the West Coast or go South towards the wine-producing valleys. We decided we would just visit Fremantle Prison and take a tour of the Perth Mint.
Australia's Only Active Mint
Founded in 1889, the Perth Mint is the only active mint in Australia with both Sydney and Melbourne closed. It is where all the medals for the 2000 Summer Olympics in Sydney were produced. They are on display in the Perth Mint museum. We decided to go the gold pour tour, but since it is still an active mint, we couldn't take any pictures inside.
Holding the World's Largest Gold Nugget, a Replica
We met on the front lawn for our tour to begin where our guide gave us a brief history of some of the largest gold nuggets found in Australia. We were able to see and hold some of the replicas discovered and admire at its sheer size after the tour. We even discussed if we should try our luck on becoming amateur gold miners in Western Australia because the Hand of Faith nugget which weighed in at 876 troy ounces (27.2 kg or 61 pounds and 11 ounces) was found less than 12 inches below the surface while an amateur gold miner casually swept his metal detector around his trailer in Victoria, Australia. This same nugget was sold to a casino called to the aptly named, Gold Nugget Casino in Las Vegas where it is prominently displayed. Source: "Worlds Biggest Gold Nuggets" The "Welcome Stranger" nugget is the world's largest alluvial nugget and was discovered only 1.2 inches below the surface.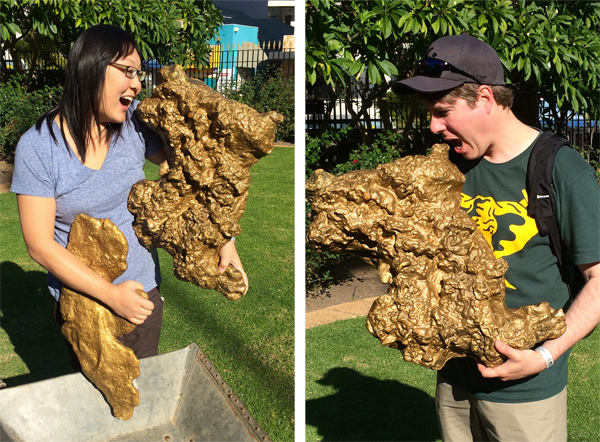 We Found Gold, Replica Gold That Is
Left: May with both the "Welcome Stranger" (top) and "Golden Eagle" (bottom)
Right: Josh trying to eat the "Welcome Stranger," largest alluvial gold nugget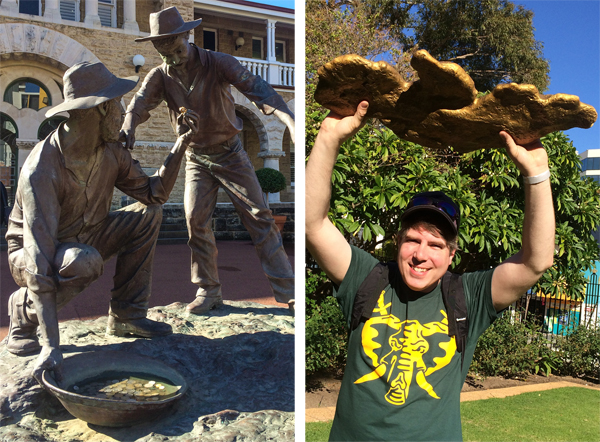 They Found Gold, Just Like Josh
Left: Statue of Prospectors in Front of the Perth Mint
Right: Josh with the "Golden Eagle"

World's Largest Gold Coin
Next on the tour was viewing the largest gold coin in the world; the one-tonne gold kangaroo coin. It is made of 99.99% pure gold with a diameter measuring 80cm and a thickness of 35cm; it is massive. The coolest part is that it is Australian legal tender. You can use this coin when you purchase something. Can you imagine pulling out this coin to make a purchase? There were no security guards or other security measures for this gold coin, worth over a million dollars. It is so large you would have to be superman to pick it up and run with it and if you are that strong, there is no way they could stop you anyway. The video below explains the great feat on the effort it took for the Perth Mint to create this coin.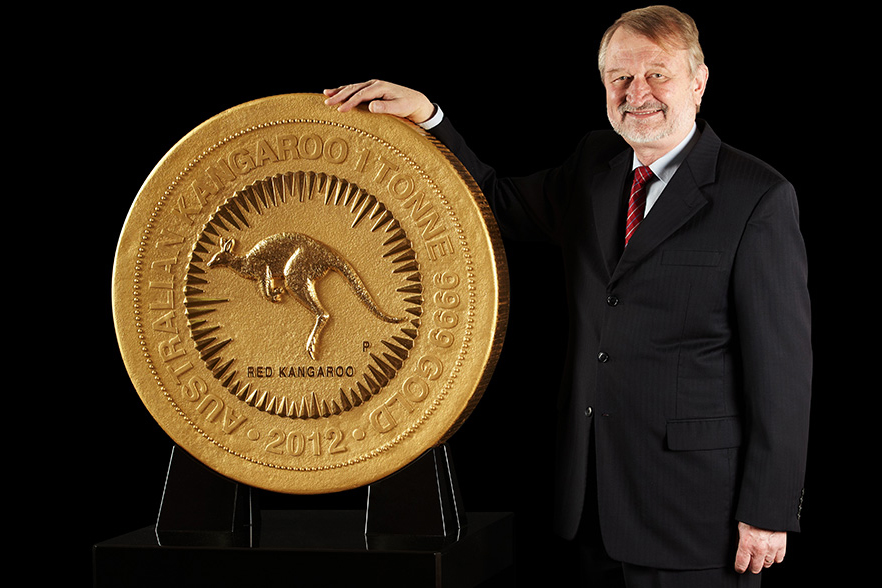 Largest Gold Coin in the World, the Australian Kangaroo 1 Tonne Gold Coin minted in 2012. Photo credit: The Perth Mint.
Gold Pour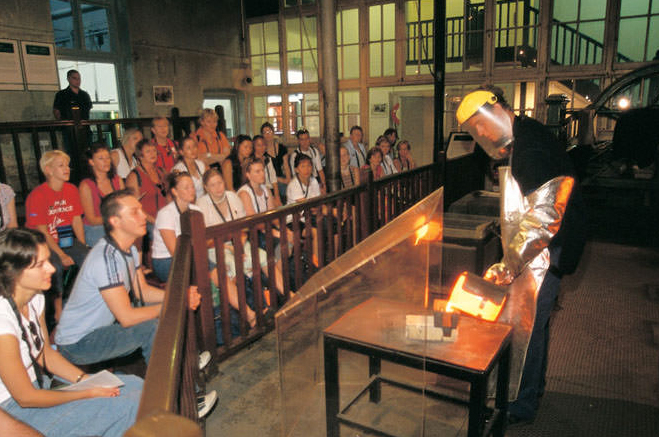 Gold Pour. Photo credit: Tourism Western Australia
Watching the gold pour was really nice. They have been pouring the same gold bar for years now. Heating the gold to its molten form and then pouring it in the mold. It is amazing how quickly it cools down, not mention how heavy it is. We all got to hold the bar briefly before exiting to the museum and looking at the nuggets they had on display.
Weighing Ourselves, What Was Our Gold Value?
After the gold pour, you exit into the museum. On display the second largest gold nugget in the world still in existence which the discoverer attempted to sell at auction. The government of Australia had something else in mind and wouldn't let it leave the country. It is owned by a mining company and loaned to the Perth Mint for display. Also in the museum, there is a scale that you can use to figure out what your weight in gold is. It will then take your weight and give you a value based on the day's price in gold. What was our worth?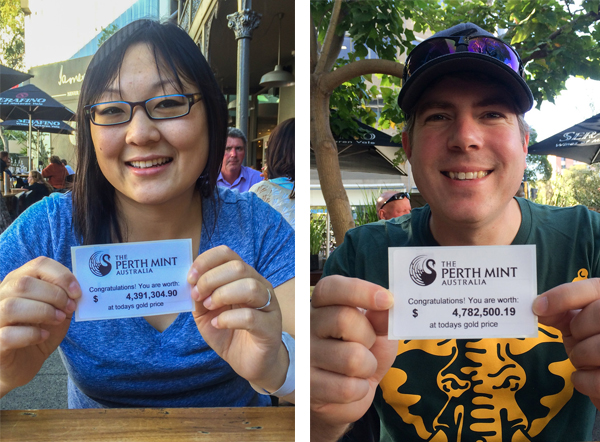 Over 4 million, we are some valuable people, or we just have some extra weight. Now that we were done finding our value, we decided to strike a souvenir Perth Mint coin. Not being satisfied with a generic Perth Mint coin to commemorate our trip, we needed a custom made coin. Our very own version of the kangaroo coin, it may not be worth a million dollars or be legal tender, but it is priceless to us.

Our custom coin to remember our Australia trip from the Perth Mint

Our custom coin to remember our Australia trip from the Perth Mint

Souvenir coin from the Perth Mint
Eating a Gold Bar
With our coins in hand and feeling a little hungry, we made our way over to the cafe and consumed a gold covered snack before going outside and taking silly pictures of ourselves with the replica gold nuggets. It is always good to not take oneself so seriously. Go out and have fun and let your inner goofball loose. The Perth Mint was one our favorite tours we went on in Australia and a great way to end our magical trip.

Our edible gold bar filled with chocolate at the Perth Mint
Saying Goodbye to Australia
After visiting the different parts of Australia, we could understand why East Coast residents wouldn't want to visit Perth. It was just easier to visit other countries. As we would learn, it was quicker to fly from Sydney to Bali than from Sydney to Perth. Australia is huge but a great place to explore.
http://www.roamtowonder.com/wp-content/uploads/2015/09/feature_austrailia_perthmint.jpg
875
1500
Joshua Hawley
http://www.roamtowonder.com/wp-content/uploads/2015/01/logo_roamtowonder_regular-300x125.png
Joshua Hawley
2015-09-23 12:22:46
2016-11-29 23:55:28
Perth: World's Largest Gold Coin and Our Weight in Gold