Australia is the smallest continent in the world, but it is extremely vast, and many other countries can fit inside. You can drive for hours upon hours in vast nothingness before you arrive in a city or town.
When we spent three and a half weeks traipsing through Australia. Of the seven different states/territories (Western Australia, Northern Territory, South Australia, Queensland, New South Wales, Victoria, and Tasmania) we were only able to visit four (New South Wales, Queensland, and Western Australia). More specifically, we visited Sydney, Cairns, Melbourne, back to Sydney for Vivid Sydney, and then finally Perth.  We plan on returning for round two with a camper van to explore the natural beauty we were unable to see during this trip. Flying around via Tigerair Australia, Australia's budget airline, which we found out later, was reputed to be the worst airline to fly with since they received the most logged complaints, 1000 in 12 month span. Tigerair got us from point A to point B and one time charged us $80 AUD for extra baggage fee for being over the weight limit and of the four flights we had, two flights were delayed. But we have to admit if it wasn't for the two-day sale we came across, we wouldn't have been able to fly all over Australia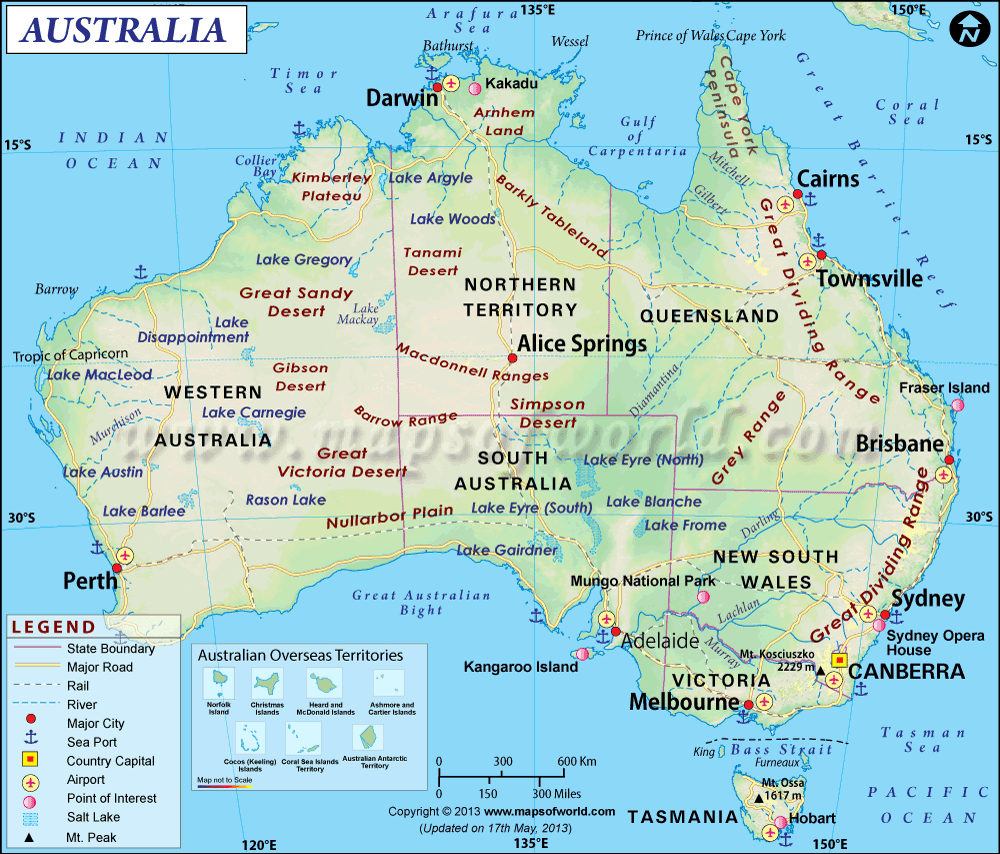 Sydney
Our first stay here was in Neutral Bay, North Sydney, at the Neutral Bay Motor Lodge where we caught a ferry across the harbor fromCircular Quay. The 15-minute scenic ferry ride gave us splendid views of the Sydney Harbor Bridge and the Sydney Opera House. Sydney is a walkable city and most of Australia is known for their cafe culture and shopping (which we weren't too interested in). On our second day in Sydney, we met Steven, from South Africa, while we were having lunch in one of the many Chinatown food courts. We ended up spending the rest of the day walking around with each other through the CBD, Sydney Opera House, and the Royal Botanic Gardens where we came across wild yellow-crested cockatoos squawking extremely loudly while feasting on grass. The next day we flew to Cairns, pronounced Cannes.
View more photos of our Sydney trip here.

Sydney Opera House made up of ceramic tiles.



Sydney Opera House from the ferry boat.



Yellow Crested Cockatoo at the Sydney Royal Botanical Garden.



Yellow Crested Cockatoo enjoying dinner of grass.
Cairns
While Sydney was cold, the weather was similar to San Francisco, Cairns was hot and humid. We stayed at the Travellers Oasis, enjoyed a BBQ party with emu, kangaroo, crocodile, Australia sausage and other treats, also visited Kuranda to see later decided to rent a campervan with Spaceships to head north to Daintree Rainforest and later explore the tablelands down south. Our first day we saw Mossman's Gorge and arrived at night and saw a bat fluttering around the camp kitchen. In the morning, we woke up to the sounds of the jungle, including bats, cockatoos, insects. We decided to take the trail at where we were staying and in the lush green rainforest filled with palm trees, vines, and many other plants the aboriginals may have used as natural herbs for healing, we also saw a wild rat?. We drove through Daintree and stopped at the boardwalks to walk through the different habitats. One boardwalk, we were so lucky to see a wild cassowary which we didn't get a clear picture of because he moved too fast!

Great Barrier Reef.

Snorkelling.
Melbourne
After having a lot of fun exploring the Queensland, we flew down to Melbourne to experience Australia's most diverse city. Melbourne is known for its culture, whether that is laneways lined with cafes or it's streets filled with art. Not knowing what to expect of Melbourne, we spent our days wondering around the streets of the city taking in all the street art. With so many alleys and laneways to explore, we didn't have time to visit the museums we had planned on going to. Getting around the city is easy, there is a free tram that makes a loop around the city centre where the main sights and street art are located. Like we do in every city we visit, we made our first stop at the visitors center. The staff was very friendly and helped us plan our route for touring the laneways and street art alleys. Besides art, the city has many good places to eat due to large Greek and Chinese populations, there is a variety of dishes to choose from. We ate pirozhkis while touring street art and kebabs while visiting the Queen Victoria market. Every meal we had was from a different ethnic dish.
For a side trip, we decided to go down to see the Brighton Beach Boxes. Since it was winter they weren't in use. It was very nice to wander down the beach and look at the colorful boxes. The boxes are all painted different colors and have different themes. If you like outdoor art, Melbourne is the place to go.
Sydney – Vivid Sydney
We returned to Sydney for the start of the Vivid Sydney Festival. Experiencing the Vivid Sydney festival was an exciting experience. Not only did we get to see all of the 3D projection mapping on the buildings around the harbour, we also climbed the harbour bridge at night to get a different view of the festival. As we climbed the bridge, we wore vests that lit up so we could also be a part of the festivities. If you are planning to come to Sydney in April, you should try and see this festival.
Perth
While most visitors to Australia tend to stay on the more populated East Coast, we decided to venture out West and spend some time in the isolated West Australia capital of Perth. While spending a few days there, we were able to see the world's largest gold coin, weighing in at 1 tonne, at the Perth Mint and tour the tunnels underneath Fremantle Prison. We didn't spend a lot of time in Perth, but enough time to make us excited about exploring the West coast of Australia on a future trip. Though Perth is remote, it has lots to offer and makes a great starting point for exploring Australias vast West coast.

Fremantle Prison.

Perth Mint.
http://www.roamtowonder.com/wp-content/uploads/2015/12/P1050320.jpg
2414
3618
May Suen
http://www.roamtowonder.com/wp-content/uploads/2015/01/logo_roamtowonder_regular-300x125.png
May Suen
2015-12-16 12:09:42
2016-11-29 23:58:39
Australia: The Smallest Continent is So Large